In this month's Beeline we will be recapping our May 3rd PUB meeting. We met at our usual location at Rose City Park United Methodist Church – and will be again on Wednesday, June 7th from 7-9pm. Dewey Caron shared information on swarms in May. He also shared an important link about the impact of pesticides on our bees. Go to http://pesticideimpacts.org for more information.


Glen Andresen shared his monthly Pollen & Nectar report. We're seeing annual flowers such as the Hybrid Poppy, and bulbs like the crocus bellflower (campanula), as well as the usual suspects like the sweet cherry and the asian pear starting to bud and flower. For a more detailed report check out bridgetownbees.com for Glen's monthly "What's in bloom" report. Send photos and suggestions of other good honey bee plants to glen@bridgetownbees.com.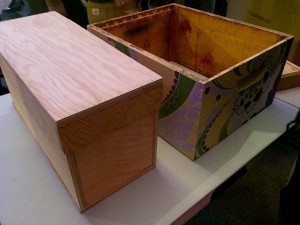 Swarm Traps! By setting out swarm traps we can make it easier to catch our own swarms and give swarming bees a place to move into instead of a neighbor's wall or attic space. And there's no better time to catch swarms than right now! For information on how to catch swarms and to download swarm trap plans check out PUB's blog post here. If you don't want to build your own bait hives, we still have a few still available for purchase for $30 ($25 for 2 or more) so contact Lauren Smith  to order.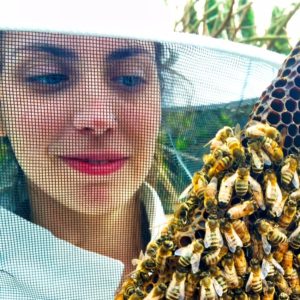 Our May meeting featured Rebekah Golden, who gave a wonderful presentation about her experiences working with native bees. Rebekah loves talking about all types of pollinators and is the education coordinator over at Bee Thinking. She was nice enough to allow us to post it on our blog so head over and check it out. We are so grateful to Rebekah for taking the time to share with our group.
Come check us out at the Multnomah County Fair May 27th – 29th starting at 12:00pm over at Oaks Amusement Park, 7805 SE Oaks Park Way, Portland, OR 97202, USA.
Zenger Farm will be having an Epi-pen training class at the farm on Wednesday, July 14th from 10am-12pm. Cost is $30 per person. If you want to attend send an RSVP to andy@zengerfarm.org.
And last but not least… don't forget to SAVE THE DATE for Tour De Hives 2017 June 24-25! We will feature tour stops of backyard apiaries all over Portland. If you'd like to become a sponsor and be featured on this website, booklet, and poster please send send an email to events@portlandurbanbeekeepers.org. Tickets are going fast so head over to our website and pick up your own.