This month we will be recapping our June 7th PUB meeting. Our next meeting is Wednesday, July 5th at Rose City Park Methodist Church from 7-9pm. Hope to see you there!
PUB President Bill Catherall started things off reminding those not on the Swarm List to register as this is the month for swarms. If you haven't registered jump on over to the Bee Allies site and take advantage of swarm reports, mentoring opportunities, and available apiary spaces.
Glen Andresen shared his monthly Pollen & Nectar report. Glen took us through annuals, perennials, shrubs, vines and flowering trees that are contributing to this year's honey flow. For a more detailed report check out bridgetownbees.com for Glen's monthly "What's in bloom" report. And please email Glen with any photos and/or suggestions of other good honey bee plants.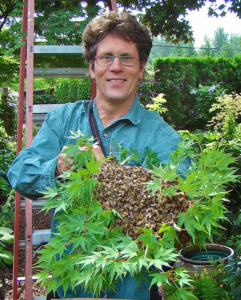 Our featured speaker was Brian Lacy, owner of Urban Bees And Gardens, which offers a range of programs for all ages to educate, support and advocate for the beekeeping community. Brian's highly informative presentation covered first-year beekeeping and offered knowledge from his 45 years of beekeeping experience.
Tour De Hives 2017
Tour De Hives is just a few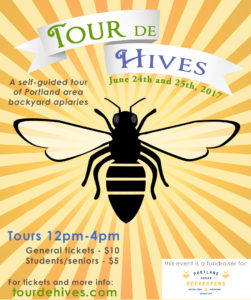 weeks away!! TDH is a self-guided tour of backyard apiaries and bee trees in and around Portland, Oregon. This year the tour falls on the weekend of
June 24-25.
We're still looking for volunteers so please
sign up here.
Saturday we will be exploring SE neighborhoods and Sunday will be in NE Portland neighborhoods. We hope this will help give people more time to enjoy the
tour
stops, create more traffic at more stops, and give
tour
hosts a chance to also take the
tour
. Get your
tickets here
!
Zenger Work Party June 18th
Also a reminder/invite for the work party at
Zenger Farm
on
June 18
th from 10am-noon. We've been doing great things at Zenger and the apiary is looking awesome. But there's still more to be done.
PUB Member Survey
At Portland Urban Beekeepers, we are honored to host a place for beekeepers to come together to learn, share, and engage our greatest passion – bees! Beekeeping is an exciting and challenging journey, and we all have our own unique experiences. We want to take this opportunity to learn more about who makes up our beekeeping club! Please click
this link
to fill out the online survey. We thank you for being a part of our community!
Multnomah County Fair
PUB's presence at the 111th Multnomah County Fair was it's best ever. The observation hive was a huge hit (thanks Bill Catherall & Janene Gibbs), as was the face cutout photo board. Special thanks to Linda Zahl for organizing and staffing the event and to all the volunteers who donated their time to making it a huge success!! Part of PUB's commitment is to advocate for the bee community and educate those interested in raising honey bees and supporting their presence in the environment and we hit our mark at this year's fair. Well done everyone!!