The following article was written by Tom Unger, Oregon Region Communications with Wells Fargo, regarding recent connections made between Wells Fargo and Portland Urban Beekeepers at their Eco Fair. Reprinted here with permission.
Barnhart team members help save bee swarm in Beaverton
Team members save endangered bees by tapping a connection made at their Eco Fair
5/12/2016
Page Content
By Tom Unger, Oregon Region Communications
BEAVERTON — The [Wells Fargo] Barnhart Center is usually a beehive of activity as our team members are busy as bees serving customers by phone. But last month the center was the site of an actual swarm of endangered bees and our Green Team team members jumped in to save them.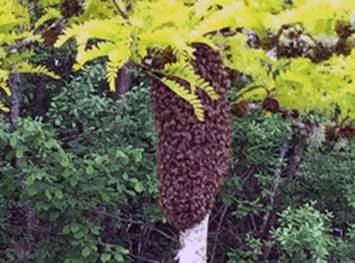 Two team members first noticed the swarm on a tree near the call center's patio on April 26. They told Sandra Busch, a member of the center's Green Team. She informed JT Davis, secretary of the Green, who reached out to Bob Wayman, a CBRE building maintenance technician based at the Barnhart Center.
Bob checked out the swarm before leaving work that night.
"It was very small at that point, about the size of a racquetball. I was thinking maybe they would take off and go to another area. When I came back early the next day, it had grown to the size of a basketball," Bob said.
There is a middle school near the Barnhart Center and one of its staff members was about to spray poison on the bees. Bob intervened and told him not to.
"These were honey bees and they are an endangered species. We don't have enough of them," Bob said. "But the swarm was so big, I knew I had to do something."
Eco Fair Connection
Luckily, the Beaverton center had held its annual Eco Fair last month where the participants included two beekeeping groups. The groups had passed out cards with the phone number of a "Swarm Hotline" (staffed by a network of bee associations throughout Oregon). The network locates and contact beekeepers closest to where a swarm is located.
Bob called the hotline around 6:45 a.m. on April 27. He used the phone keypad to enter the center's address and phone number into the automated system.
A woman beekeeper in Hillsboro [Lynnea L-K] called Bob within a few minutes and was on site by 8 a.m., Bob said (see photo below).
"When she came out, she was amazed at the size of the swarm. There were probably around 4,500 to 5,000 bees there," Bob said.
"I thought it was great that through the Eco Fair, we made a connection we might not otherwise know about and then were able to reach out and get help for an unusual situation," said Operations Processor Debra Kennedy.
Bob remained on scene the entire time to warn team members to stay away. He also asked the school to keep the students inside their building.
The beekeeper had a wooden container. She sprayed a mixture of sugar water and honey into it and to coax the bees into the box, filling it completely (see photo below).
"She was very nice and answered a lot of questions from curious team members," said Sandra.
A Thick Cloud of Bees
At one point during this two-hour process, the bees started swirling in the air between Bob and the beekeeper. The bees were so thick that Bob couldn't see the beekeeper standing only 10 feet away.
"I was covered with bees all over my shirt and hair for about 45 minutes," Bob said, adding he got stung a couple of times.
After the beekeeper got all the bees into the box, she taped it off to keep curious bystanders from getting stung. She came back early the next morning to take the bees to her home where she has a few beehives.
"It was a wonderful experience for me," said Bob. "I was amazed to see how this person was taking care of these bees and how careful she was."