For our June 1st meeting Morris Ostrofsky came to present "Mite Keeping 101."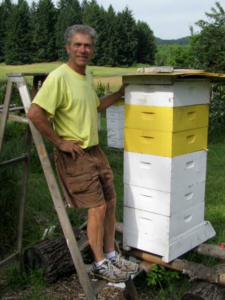 Now approaching his 47th year as a beekeeper, Morris, a retired biology instructor, says he learns something new every day about bees and beekeeping.
Since 2010 Morris has participated in the development and implementation of the Oregon Master Beekeeper program. He is both a mentor and an instructor. Morris is also an active member and past President of the Lane County Beekeepers Association.
In October 2013 Morris was awarded the Washington state Master Beekeeper certification. He is the first Oregonian to receive this certification and is among only a half a dozen who currently hold this title.
Morris is an occasional contributor to Bee Culture magazine; his last article, Glass Jar Beekeeping, appeared in the May 2012 issue. His newest article, Overcoming Barriers to Beekeeping: How to Continue Doing What You Love, appeared in the May and June 2015 issues of Bee Culture.
Morris' passion for teaching and beekeeping becomes apparent when he shares his knowledge with others. An interest in genetics and queen rearing has led to a quest to breed locally adapted, treatment free bees using the Miller Method.