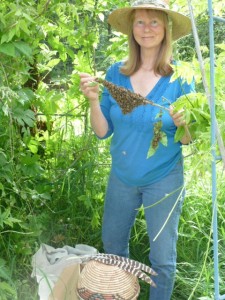 Jacqueline Freeman will be teaching all about swarms. Learn about the purposeful activity that leads to swarming and how the hive organizes itself to reproduce and increase the number of colonies in the area. Understand the logic of letting bees breed on their own rather than purchasing artificially inseminated queens of dubious stock.
And here's the exciting part of class — you'll know how to peacefully interact with and COLLECT A SWARM IN THE WILD.
Jacqueline will show you how to make and place a BAIT HIVE to encourage swarms to populate a hive in your yard, and will briefly cover how to do a CUTOUT of an established wild hive that's living where it ought not be (like inside a kitchen wall) which you can then re-home into one of your hive boxes.
Portland Urban Beekeepers practice ethical swarm catching. It's fun and an additional source of bees, but it's also an important part of being a responsible beekeeper in an urban environment and serving the community. PUB maintains an automated swarm notification system to make it easy for people to contact beekeepers to come collect swarms they find. All class participants will be able to join our swarm list.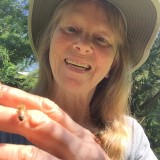 Jacqueline and her husband Joseph moved onto their biodynamic farm in southwest Washington in 2001 and she got her first hives soon after. She attended conventional bee school and immediately knew there must be a different way to care for bees that is more respectful, more compassionate, more like the way feral bees live. A few years later she began teaching this bee-centric approach in her classes, blending natural beekeeping and bee-driven insights into the nature of bees.
She speaks and teaches about bees at events including the Organic Beekeepers Conference, NW Permaculture, Women's Permaculture Conference, Women in Agriculture. She's written magazine articles for Biodynamics, Lilipoh, Home Orchard Society, Living in the Northwest, a chapter for the Queen of the Sun book, and appeared as the gentle swarm-mover in the documentary "Queen of the Sun." In 2013 she was invited by the Dominican Republic to work with rural beekeepers to help them learn organic and biodynamic methods to care for their bees. And in early 2015 she published her bee book, "SONG OF INCREASE: Listening to the Wisdom of Honeybees for Kinder Beekeeping and a Better World."
April 29th, 2017 10:00 AM through 3:30 PM
5830 NE Alameda St




Portland

,

OR

97213




United States
| | |
| --- | --- |
| Event Fee | |
| Registration (for current club members) | $ 30.00 |
| Registration + Individual Membership | $ 55.00 |
| Registration + Family Membership | $ 70.00 |